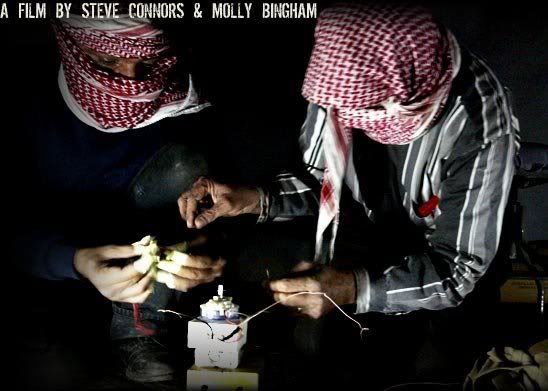 Meeting Resistance: A film by Steve Connors and Molly Bingham

MEETING RESISTANCE is a verité-style non-fiction feature-length film set in the streets, alleyways and ubiquitous teashops of the Adhamiya neighborhood of Baghdad. It enters the physical and psychological heart of the "insurgency" against the American occupation. Photojournalists/directors Steve Connors and Molly Bingham spent ten-months among the insurgents there to create this exclusive, unique, and at once horrifying, compelling and insightful film about their lives, motivation, and goals.
MEETING RESISTANCE focuses on eight "insurgents", each with his or her own tale and reasons for opposing the American-led occupation, yet all people who within days of the fall of Baghdad were arranging themselves into resistance cells, finding the money and weapons to fight against the American military. The film witnesses how they began to organize themselves, reveals why they have decided to violently oppose the occupation of the country, and hears in their words the underlying ideological foundations to their fight and how and why those have changed over time.
MEETING RESISTANCE is a fascinating journey through a tumultuous period with diverse members of the Iraqi resistance. Their personal stories as well as their ideological ones are at once dramatic, eye-opening, and concerning - and they challenge the notion that those opposing the occupation are simply "dead enders," "common criminals," "Al-Qaeda operatives" and "die-hard Ba'athis."
Directors Steve Connors' and Molly Bingham's unsurpassed access and visually stunning cinematography makes this film a one-of-a-kind; essential viewing for audiences around the world concerned with a deeper understanding of the current situation in Iraq, and with the human condition of resistance.
THE CHARACTERS
The Teacher
In his late forties is married with three children. This quiet, philosophical man is active in the resistance. Never a member of the Ba'ath party - which he loathed - he is a family man who has devoted his life to teaching. During the fighting around the Abu Hanifeh mosque in Adhamiya on April 9th and 10th 2003 The Teacher helped out by guiding foreign volunteer fighters through the backstreets of his neighborhood. He was shamed by their willingness to fight and die for Iraq while most Iraqis - especially the Ba'ath party members - failed to stand in defense of the country. The Teacher described his pre 2003 war life as secular. However after a brief period of 'shock' after the war he joined an Islamic group and began working with them as a weapons procurer.
http://www.meetingresistance.com