Harum Scarum: 1001 Swingin' nights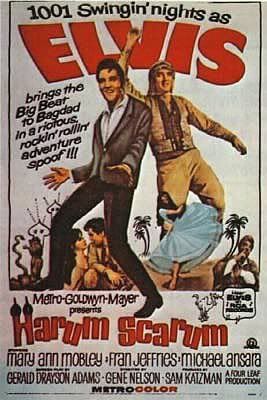 Elvis brings his Big Beat to Bagdad in a riotous rockin' rollin' adventure spoof!!!

Elvis in a land of Arabian daze and nights.

"Go East Young Man," sings show-biz star and martial arts wiz Johnny Tyrone. To hear is to obey. A clandestine group called the Assassins kidnaps Johnny and whisks him to a remote Arabian realm isolated from the world for 2,000 years.

Sheik meets desert chic...

The kidnappers want Johnny to use his finesse to kill a desert king.

Johnny a hitman?

No, he's a hit, man a top singer of songs like Kismet, Harem Holiday and nine more, all part of the jammin,' swashbucklin' fun of Harum Scarum.